... When you find new ways to hear, you hear new things...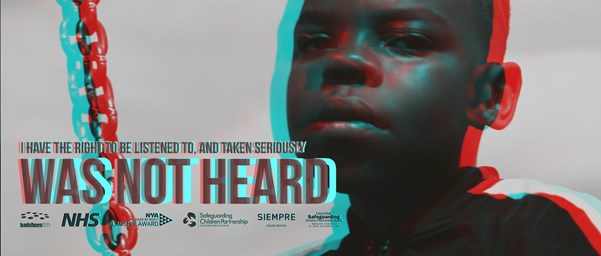 'Was not Heard'
Young People have the right to be listened to, and taken seriously.
The Multi-Agency Learning and Development Group are pleased to announce the release of a short film advocating the right of children to be heard and the duty of those working with them to act.
The film was originally conceived by five groups of young people from around Leicester, Leicestershire and Rutland. Their ideas were then taken and a script was written again – by a young person. This was then made into a film with the support of Leicester City Participation Service and Badshoes Film and with performances by young actors. The film was funded by NHS England and the Safeguarding Children's Partnership (Board)s of Leicester, Leicestershire and Rutland.
The virtual premiere took place on the 11th July 2020 to an invited audience and the film is now available to public. Please click here. 
Was Not Heard - Leicester City Council Rights and Participation Service has been shortlisted in the category The Recruitment and Professional Development Award by the Children & Young People Now Awards 2020.
The film then was screened at a socially distanced screening on Monday 7th September at The Muse in London.
It also has been selected to screen as part of the official selection of the Portobello Film Festival, which was established in 1996 and has become one of the most respected festivals in the country.
We're very happy all the hard work of the young people involved in 'Was Not Heard' has been recognised and rewarded by this festival. You can further watch our young actor's own views about what being listened to means to them: